Melodyne – The Ultimate Pitch Correction & Quantization Tool
Have you ever wondered how performing artists can seem so perfect on record, but their live pitch and timing can be a bit hit and miss? It cannot be denied that perfection is the result of genuine talent and studio concentration, but during the last ten years, recording perfection has been made easier by a range of amazing digital recording softwares like Melodyne.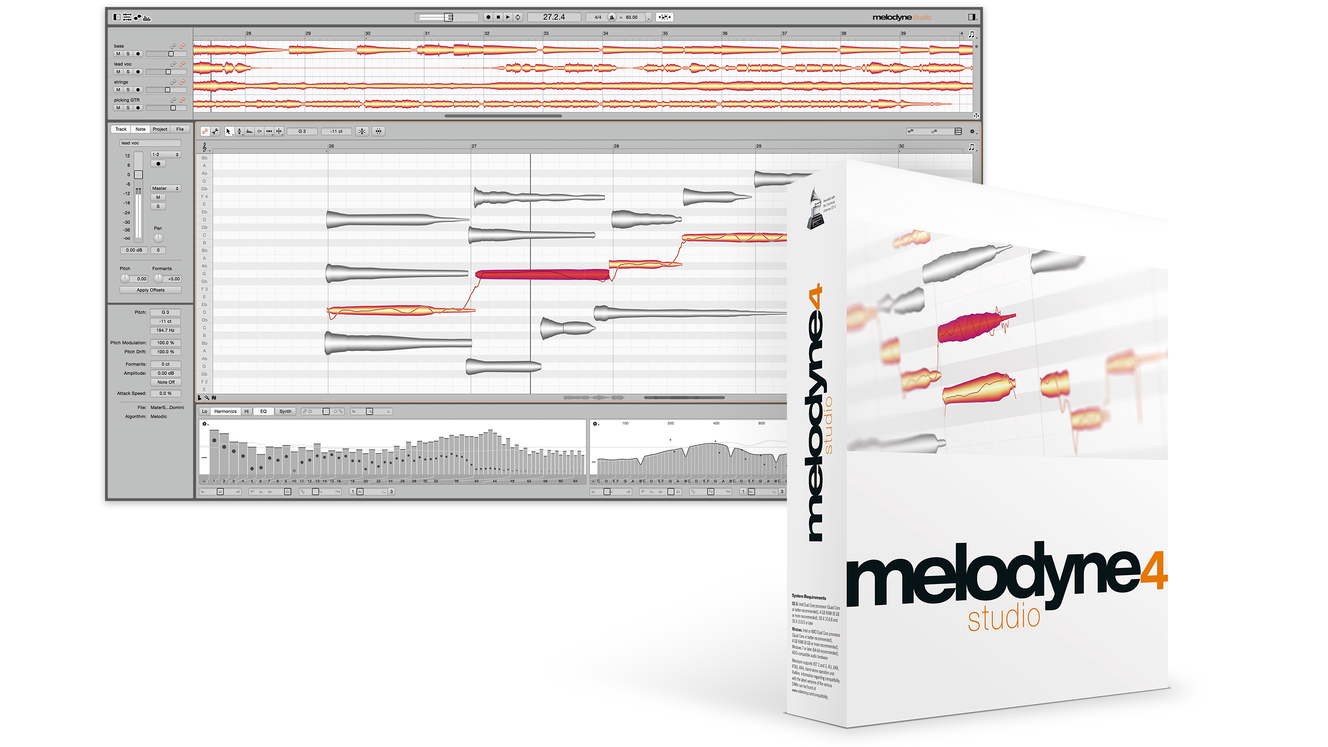 The Grammy Award winning Melodyne application was developed by Peter Neubäcker and released in 2000. Referred to as "the magic plugin." it is an incredibly powerful tool / application that lets users manipulate the pitch, vibrato, timing, envelopes, and formants of audio in an intuitive interface .
Made by a company called Celemony, Melodyne is by far the easiest, nifty, crystal-clear and almost magical natural sounding pitch correction software out there.
Melodyne rescues, helps, optimizes and inspires. You can optimize the tiniest details of your recordings, bringing them as close to perfection as you desire. And since Melodyne works in a highly musical way, neither the vitality nor the naturalness of the performance is sacrificed in the process. Working with Melodyne is like being able to say to a singer "hold this note a bit longer" or to a pianist "give slightly less weight to the third in this chord" – hours, weeks, even years after the recording session
Bring audio into Melodyne and it is analyzed for pitch, duration, formant, intonation and other characteristics. At this task, it's second to none, able to pick apart even complex polyphonic sounds like stereo mixes and split them into separate notes inside its grid editor. It deconstructs more or less any sound into something resembling MIDI information,
In Melodyne, you work with notes – and not with a meaningless wave form. You don't just see where the music gets louder or quieter but also where notes begin and end and at what pitch they lie. Notes are displayed in Melodyne in the form of "blobs" - the precise path traced by the pitch is indicated by the wavy line. With Melodyne's tools, you can edit the notes directly and modify all important musical parameters
Salient features of Melodyne
For people who are good at using technology Melodyne is a real joy and a lot of fun to play around with. There are plenty of cool features and effects that are sure to give technology fans something to sing about.
This software is a real dream come true for professional singers and musicians. Musical notes can be extended softened or heightened with ease electronically so that the perfect recordings can be achieved every time with just a few touches of a button and sound images can be set to appear as notes instead of wave forms.
Another great feature of Melodyne is that it is fully compatible with older types of audio media such as cassette tapes and even vinyl. This means that people who already have their voice recorded on older formats will be able to retrieve it and even play around with their vocals so that they create fresh new sounds.
Furthermore, the unbelievable flexibility of audio in Melodyne can be the launching pad for your boldest ideas. Notes, phrases, rhythms and noises in Melodyne become raw material that you can stretch, reshape, layer and transform – virtually at will.
Melodyne is a fantastic addition to any Digital Audio Workstation as it gets pitch correction right: it simply corrects, not affects the sound .It is performance correction on every level imaginable. This is especially powerful when you only want some subtle tweaks. It is musical and tasteful, and really you don't hear it doing anything at all.
How does Melodyne work
Melodyne works slightly different than other plug-ins you've used in that you must 'Transfer' the audio into Melodyne. It doesn't simply live on a track as a normal insert such as eq or reverb. When you 'Transfer' the audio into Melodyne, it will analyze the passage and display it in its own editor window. Its impressive 'DNA' (Direct Note Access) technology enables independent manipulation of individual notes within complex polyphonic material or chords. Using a simple graphical interface that shows notes as orange blobs, Melodyne lets you easily see your performance, grab a note, and move it somewhere else. This can be a subtle pull sharp or flat, or it can be a complete re-write of the melody. You can even stretch notes out longer or shorter to change timing. In the background Melodyne will adjust the formant of the note along with any cross fading that's necessary to keep it sounding fluid and natural. If that weren't enough you can quickly add or remove vibrato (on a note by note basis if need be), adjust the volume of individual notes, affect the transition or scoop from note to note, and even globally quantize pitch to a scale and timing to a grid of your choice.
Versions
Melodyne comes in four versions : Essential, Assistant, Editor and Studio. All versions run both in standalone and plug-in modes and have ReWire compatibility, perfect for integration with Reason and other ReWire apps. When running in standalone mode, operation is slightly different in some ways. Mainly these relate to the fact that as standalone you have to import or record audio tracks into Melodyne, whereas in a DAW they're "sampled" in from DAW audio tracks by pressing a button in real time.
Competitive Edge
Much like Antares' well-known Auto-Tune software, Melodyne allows users to correct the pitch of any audio recording. Melodyne goes a step further, however, in offering polyphonic as well as monophonic correction. Autotune and other technologies have allowed manipulation of single notes,Anyone who's ever learned the basics of sound manipulation in a waveform editor, such as Audacity, knows how difficult it is to separate sounds from a mixed-down recording. Melodyne lets you edit polyphonic audio files as if they were notes in a midi file — assigning new pitches to notes, moving them to new positions in the song, and so on. In layman's terms, this has the potential to let people rewrite music that's already been written, fix wrong notes, pick apart samples and basically get their hands on the DNA of a song
Conclusion
Melodyne is the perfect software tool for pitch shifting, time stretching, and correcting the intonation and timing of a vocal or musical performance. Editing vocals can be a nightmare if not done correctly, or if the proper tools are not available. With Celemony's Melodyne, it becomes a hassle-free process, making vocal editing a piece of cake. Melodyne is highly regarded by musicians, producers and sound designers all over the world who use it in music, film and radio. The fantastic editing possibilities, the outstanding sound quality and the intuitive and musical operation make Melodyne an incomparable tool without which it would be hard to imagine modern music production.